Meet the staff at Googong Veterinary Centre.
Mark Carter
Veterinarian – BVSc Dip Vet Prac Management
A country boy from northern NSW, Mark grew up on his parents' wool and beef farm in the small town of Barraba, before graduating with a Bachelor of Veterinary Science from The University of Sydney in 1997.
After moving to Dubbo, Mark worked in mixed practice with all kinds of animals, including pets, horses and livestock. In addition to running a busy small animal practice, Mark developed a keen interest in the sheep industry, particularly with breeding and reproduction. He was involved in exporting sheep embryos all over the world but also developed an enviable reputation delivering canine reproductive services as well.
A passionate advocate for the veterinary profession, Mark has served many roles, including student training and serving the branches and special interest groups of the Australian Veterinary Association. He served time as the President of the Australian Sheep Veterinarians and was involved with international collaborations, such as Foot and Mouth disease training in Nepal.
In 2019, Mark and his family decided for a change of direction and made the big move to the ACT region. Here they have been embracing all aspects of the nation's capital. They love the people, their pets and the climate, and have been embracing the great outdoors, sporting opportunities, chilly mornings and community.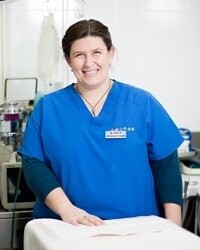 Karen Warner
Senior Veterinary Nurse – Certificate IV in Veterinary Nursing
Assisting Mark is our senior veterinary nurse Karen Warner. A qualified veterinary nurse for over 20 years, Karen's experience is extensive. During her long career she has worked with passion to aid the people of Canberra and their pets. She is very eager to be taking on this role for Googong Vet Centre and is thrilled to be playing this vital part.